At least 35 federal lawmakers have signed a draft of a letter to Transportation Secretary Ray LaHood protesting the DOT proposal for a cross-border trucking program with Mexico. The April 27 draft written by Congressmen Duncan Hunter (R-Calif.) and Daniel Lipinski (D-Ill.) is signed by 35 to 40 congressional members, said Hunter spokesman Joe Kasper. The plan is "bad for American truckers and the entire commercial trucking industry," Hunter wrote.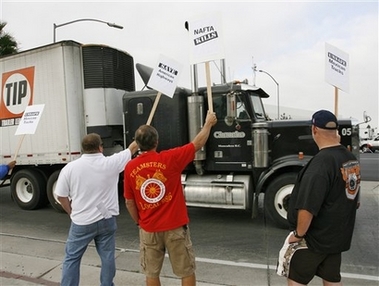 "The proposal is an undue burden on taxpayers, including buying and monitoring electronic
on-board recorders
the department will require for Mexican trucks involved in the program," he wrote. "
The cross-border trucking program
is a straight handout to Mexico at the expense of American jobs, taxpayer dollars and security," he stated. The agency has said it is funding
EOBRs
to ensure it will own and control data gathered by the devices. Over a three-year period, the department estimated this program will cost $2.5 million, which includes $750,000 during the first full year of the program.